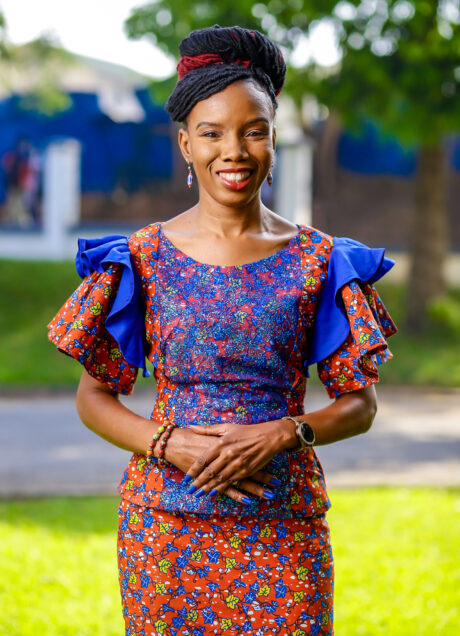 Ing. Professor Elsie Effah Kaufmann (PhD)
President of Women in Projects (WiP).
Ing. Professor Elsie Effah Kaufmann is Founding Head of the newly established Department of Orthotics and Prosthetics at the University of Health and Allied Sciences, Ghana.  She is also an Associate Professor and Founding Head of the Department of Biomedical Engineering at the University of Ghana.  Elsie began her education in Ghana then proceeded on scholarship to the United World College of the Atlantic in Wales where she obtained an International Baccalaureate Diploma in 1988. She went on to earn a Bachelor of Science in Engineering (BSE, Cum Laude), Master of Science in Engineering (MSE) and PhD in Bioengineering all from the University of Pennsylvania.  After her graduate studies she received her postdoctoral training at Rutgers University, serving also as founding Director of the Cell Biology Laboratory at the New Jersey Center for Biomaterials, and thereafter joined the University of Ghana in 2001.
Elsie has contributed immensely towards the development of science education at all levels in Ghana and beyond.  She is noted for her contribution to the establishment of the School of Engineering Sciences as well as the development of several other academic programmes (Physiotherapy, Radiography, Audiology and Medical Physics) at Ghana's premier university.  She is probably best known for her role, since 2006, as Host and Quiz Mistress of the hugely popular Ghana National Science & Mathematics Quiz TV Programme for Senior High Schools.  Her contributions to STEM education have been recognized with several national and international awards.  She was inducted as a Fellow in Biomaterials Science and Engineering (FBSE) by the International Union of Societies for Biomaterials Science and Engineering (IUSBSE) in 2020. Elsie is a Council member of the Ghana Institution of Engineering and the current President of the Ghana Society of Biomedical Engineers.  She is a Fellow of the Institute of Project Management Professionals Ghana (IPMP) and current President of Women in Projects (WiP).